By: Michael Fernandez, Director, Miami-Dade County's Department of Solid Waste Management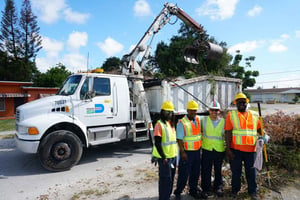 I was recently promoted to Director of the Miami Dade County Department of Solid Waste Management (DSWM), with more than 1000 employees, a budget of approximately $500 million, a customer base of 353,000 households, and a collection and disposal system that includes multiple landfills, transfer stations, and the largest publicly held waste-to-energy facility in the country. DSWM manages approximately 1.8 million tons per year.
The collections operation collects residential garbage twice-a-week using more than 150 residential routes. Not only do we collect curbside garbage, but we also collect bulky waste. The Bulky Waste operation collects over 80,000 piles a year, with approximately 35 crews, using anywhere from 70 to 105 grapple and trash trucks on the road per day. Crews use a combination of self-loading grapple trucks or cranes with trash trucks. After recently hitting the road with an automated side loader garbage route, I thought it was time to jump on a self-loading grapple truck.
Hitting the Road
It was Thursday morning, about 7:00 am. I entered the office and found my crew that was made up of a trash crane operator, trash truck driver and a waste collector. Mr. Jerry Thomas, whom had driven a tractor trailer for me in a previous division, was the trash crane operator. Mr. Ulysses Johnson was the trash truck Driver and Mr. Colson Ladouceur was the waste collector. After conducting their pre-trip inspection, we headed out from the yard. We arrived at our first stop where we collected about 25 yards. Jerry began using his tablet to document a few buckets of paint that were beneath the pile. Jerry raved about his new tablet where scheduled work orders were routed. Once Jerry closed the work order, the customer received notification that the pile was collected. We are currently working on expanding notifications that our customers receive. For instance, it would be great to notify our customers of items that could not be collected, such as those buckets of paint.
Getting Involved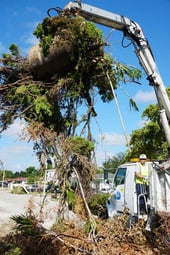 A few piles later, it was time for me to take over the controls. I drove to the next pile and began collecting the pile. At first, I was a little rusty in using the hydraulic levers, but thanks to Jerry, I started getting the hang of it. We cleaned up the pile, like if a pile was never existed. I was really proud of my Bulky Crew. They worked as a team! Ulysses and Colson were directing traffic and raking loose debris, while Jerry was guiding me on the pile. Soon after picking up 70 yards, we headed to the dump. I drove up to the scale house at our Northeast Transfer Station, where the scale operator waved at me. We proceeded to dump our load on the tipping floor. After dumping our load, we stopped for lunch. We enjoyed lunch together and had a great discussion that included many great ideas.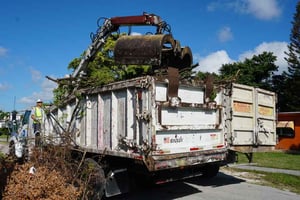 After lunch, we headed back on the route to collect another 70 yards. After our second load, we began wrapping things up at around 4:30 p.m. I proceeded back to the yard. I got the same greeting from everyone, like the time I drove on the garbage route. Everyone was happy to see me driving in a grapple truck and accompanying the trash crews.
I was very appreciative of everyone's hard work. One tends to forget how difficult it is to collect bulky piles. You are exposed to the outdoor environment and have to master the hydraulic controls to pick up those hard to reach piles that are underneath electrical and utility lines, near mailboxes, and in those hard to reach places. DSWM employees are extraordinary professionals and display such courteous customer service.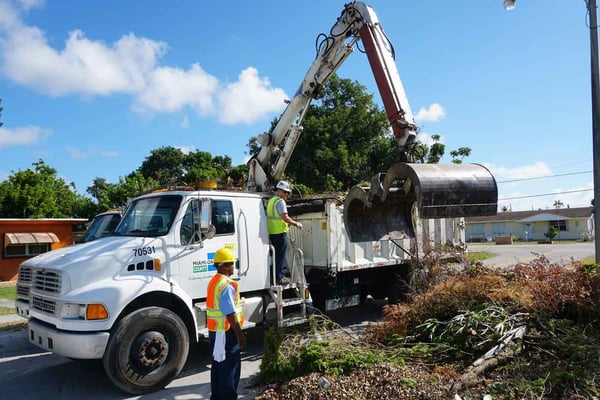 Want to hear more? Come out to WASTECON and meet me and the Collections and Transfer Technical Division leadership on Tuesday, October 22, 1-3 p.m., Booth 401. We will have food and drinks available during our talking trash session. You will have industry experts from all over, discussing fleet management, collection and transfer efficiency and enhancements, route software, safety, technology, legislative topics, etc. If you cannot make it, feel free to message me through SWANA.

Mike Fernandez is the Director for Miami-Dade County's Department of Solid Waste Management. He can be reached at (305) 514-6623 or e-mail mfern@miamidade.gov.