SWANA recognizes Frank Caponi for his term as SWANA President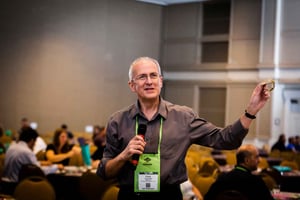 As we wrap up June, SWANA would like to take this time to thank our SWANA President, Frank Caponi, for his hard work this past year.
Frank Caponi is a professional environmental engineer with more than 25 years of experience in the solid waste management field. He is the supervising engineer of the Solid Waste Management Air Quality Engineering Section for Los Angeles County Sanitation Districts (LACSD). He is responsible for all LACSD solid waste management air quality programs. Facilities under his responsibility include three active landfills (one of which is the largest landfill in the United States), three inactive landfills and a municipal waste combustor. The landfills contain state-of-the-art landfill gas management equipment (a combustion turbine, flaring facilities, boilers and a clean fuel facility). Frank heads a staff of civil, mechanical and chemical engineers responsible for permitting of all solid waste management projects, design review, emission source testing, dispersion modeling, health risk assessment preparation and determining compliance of solid waste facilities with federal, state and local air quality regulations.
He serves as a primary liaison with federal, state and local air quality agencies, and sits on several agency committees. He also acts as an expert witness in all variance and appeal cases with the South Coast Air Quality Management District, as well as providing expert testimony at air quality hearings.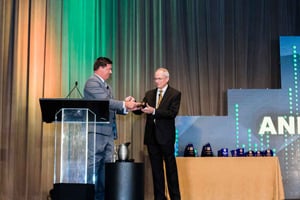 Frank is active in professional societies and filled the President position on the SWANA International Board from August 2018 - June 2019. He has published several papers and has prepared and presented talks on a wide range of air quality and solid waste management topics.
"I want to thank Frank for his service over the past year as President, and for his continued leadership on the new SWANA Board of Directors starting July 1," says David Biderman, CEO and Executive Director. "Frank has provided terrific and useful feedback to me and staff about SWANA events, programs, and services."
SWANA released a video interview with Frank and his time serving as President. In the video, Frank talks about how he got involved in SWANA and solid waste, found himself in a leadership position, and his advice to those starting out in their career.
"I had the opportunity to meet a lot of people that I hadn't met before at SWANA and I think that was probably the best part of the whole deal," says Frank. "There's a lot of people out there doing a lot of good things."
Watch the whole interview here.