In honor of International Women's Day on March 8 and Women's History Month, SWANA is highlighting the hard work and dedication of women in the solid waste industry. We are very proud of the thousands of women who inhabit the North American solid waste industry, including more than 2,000 who are SWANA members.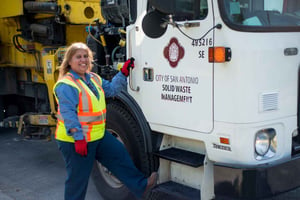 During the past couple weeks, I have asked many SWANA members about their experiences, careers, and work in solid waste. The majority, especially those in engineering and operations, said they were the only one or one of a few women working for their organization when they started 20 to 30 years ago. Many said they felt more pressure to prove themselves than the men they worked with. I heard from women who had to overcome obstacles to gain the respect they deserved, even starting before they began their career in the industry.
Brenda Haney, now SWANA's Vice President and Solid Waste Director for the City of Lubbock, was told by her sixth-grade math teacher that she was exceptional at math and if she was a boy, she would have recommended her to be put in the honors program. Brenda went on to study engineering at Texas A&M, where at freshman orientation, one man told her she had "no business being in the College of Engineering, that [she] was never going to be able to do the math. [She] was never going to succeed in the industry and was just taking up a spot that should have been a boy." Haney went on to not only complete a four-year degree in Engineering, but also received her master's degree in Civil Engineering.
Although not always easy in a male-dominated industry, women overcame these obstacles and have been navigating solid waste management for decades. In the late 1980's and early 1990's, more women began joining the solid waste industry with the growing need to spread recycling education to the public. Women became a crucial part in what we know as solid waste management today. Before this time, Americans would throw everything in the landfill. The industry grew to recognize the benefits of recycling and turning waste into a resource.
Women began making their way through the ranks to management and higher positions. Marcia Papin, now the Solid Waste Manager of Greenville County, SC, got out of the army and became a heavy equipment operator while taking classes at the Greenville Technical College in South Carolina. After graduation, she accepted a job as a landfill equipment operator. She quickly was promoted to lead operator, which was not common in 1984. A couple years later she was promoted again this time as Landfill Supervisor.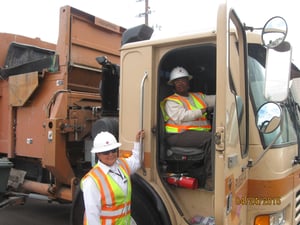 "I just knew always that I had to work harder and make good decisions and let my leadership pave the way," Papin says. "A lot of the people that weren't on board, didn't stay long. If they found it completely unconscionable to be working for a woman, they typically left. So, I was able to build a staff that worked well."
Young Professionals or those who entered the industry within the last decade said they believe is male dominated, but with many of the same pressures felt by all women in any industry.
"I think women in particular are under a lot of pressure to be perfect," says Christine Wolfe, Government Relations Manager at Recology. "Every mistake can feel like a risk to your career, because you're always struggling to seem credible. I think it's important to remember that it's okay not to know everything — you probably still know a lot — and that it's important to find mentors to whom you feel comfortable asking questions."
Many felt the same hope and comfort, saying they found support in mentors and peers in the industry. This was a big reason why many didn't leave the field.
"I think that women that go into this industry will not only find more support, but an industry where women help women, they give them a leg up, they drop their name if they're a consultant," says Papin. "They will also find that they are welcoming and are the type of people that will help you succeed."
"Everyone that I have ever met in this industry is very supportive of one another and wants to help you succeed," Tiffany Dunn, Executive Director for the Saline County Solid Waste District in Benton Arkansas, said. "It is a male-driven industry, but I think we are starting to see a change in that more women are entering the industry."
With the welcoming, supportive environment mixed with an ever-changing field, countless opportunities, and a close-knit community, it is no wonder that women – and men – find their place in solid waste and recycling. There has been much progress, even though there is always more progress to be made.
"I hope that more men become comfortable being allies," says Wolfe. "Being an ally demands more than being a colleague – it means being attentive to your own bias and that of others and being active in combating that bias. Sometimes it feels awkward or unnecessary, but even if you evaluate colleagues based on merit and not their identity, there are a lot of other people you work with who don't. The risk you take sticking up for someone is so much less than the benefit to your ally."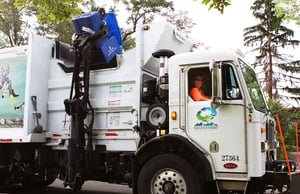 Turning her attention back to the industry, Wolfe adds "More than ever, we need to be asking ourselves questions as an industry, whether it's from a safety, environmental, or market development perspective. Having diverse leadership perspectives, whether it's at the facility level or at the corporate level, ensures we're looking at all options for success."
The excitement of the changes that are coming for solid waste and recycling are seemingly felt by all. There is a lot happening in the industry that demands attention and new, innovative solutions from recycling to safety. All those dedicated to the fight are working to reach the common goal of a more environmentally sound, safe future, regardless of gender.
Thank you the San Antonio District, Phoenix Public Works, and Wasatch Front for providing photos.
---
Sarah Beidleman, Marketing Coordinator, SWANA
Sarah is the Marketing Coordinator at SWANA. She enjoys meeting SWANA members and hearing their stories from the industry. Whether on the beach or in the mountains, Sarah's favorite way to spend her free time is heading outside and traveling.