SWANA is pleased to highlight some of the essays submitted as part of SWANA's Grant H. Flint International Scholarship Program.
---
Solid Waste in North America
By: Coleen Grace Geraghty
Civil engineering gives me the technical and fiscal knowledge to make decisions and carry out the implementation of projects. In addition, the Sustainability Studies program at the University of New Mexico has given me a global understanding of the current state of the world. I believe that the world will change when people design a system that is better than the current one, both for humans and the environment. One person's idea or system can take hold and influence thousands of lives. And that is what we need in order to shift the current system of a wasteful culture to one of intentional resource use: good ideas with vision, and new processes.
In order to graduate with my minor, I have to complete a capstone project. I want to work with the waste cycle of the university. I have started a blog through Instagram that is helping me gauge the motivations, interests, and knowledge of people in my community. The blog also gives me a platform to explore what other people are doing in similar situations. It is chronicling my transition to zero-waste and reduced plastic. However, I do not expect this to have a big enough impact: I believe we must find or invent a system that engages the public without inhibiting the convenience of their lives.
As a sustainability intern for UNM Food, the contractor who supplies all food to the campus, my most successful initiative to date was the implementation of a reusable to-go box program that allows students to check out a box, serve themselves a meal, eat it wherever they would like, and then return the box for either a token or another fresh clean box. This program reduced the waste of over 20,000 reusable boxes during its pilot year. I believe this initiative worked because students found the system easier to use than the traditional options, its benefits (like self-serve, no-waste, portability, durability, style) outweighed the cost of going to any other venue for food. It is solutions like that, which change the system just enough to attract people and tip the scale, that show how we can make shifts on a larger scale.
In my internship in the Capital Projects department for the Matanuska Susitna Borough, I got to attend a SWANA meeting and get plugged into the issues of solid waste in our community from the operational side and the policy side. In New Mexico, I got to attend the NM SWANA conference. I see how a few inspired and hard-working people can make big changes in our communities. I am currently working for a solar racking company and I see that clean energy can greatly reduce greenhouse gas emissions. How much more can we impact our world if we can reduce energy consumption? Using our resources and waste more intelligently could be the key to achieving a decrease in total energy consumption. Why spend the energy to make disposable coffee cups to drink from while we design solar racking systems instead of using a ceramic cup?
In my classes, at work, and on social media, I am changing the way I see waste. I am helping others see it differently, too. I am working hard now to study the processes around me and develop understanding that will lead to solutions in the years to come. As a licensed professional, my goal is to have a much bigger impact than I do now and to change the way North Americans thinks about waste, lowering energy use, and carbon emissions.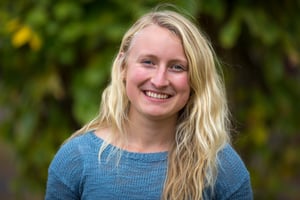 Coleen Geraghty
Coleen Geraghty won the 2019 Category II Grant H. Flint International Scholarship. The Category II scholarship is geared towards undergraduate juniors or seniors pursuing a degree in a field related to solid waste managemet. Coleen is attending the University of New Mexico. She was nominated by the SWANA Alaska and New Mexico Roadrunner chapters.
With a degree in Civil Engineering, Coleen wants be a part of the solid waste industry from construction and design to public policy. Last summer, she got to see how, as a construction inspector, she could be engaged in the process of opening a new lined cell in her local landfill. She also learned that she could influence the current public policy by using her engineering knowledge to gather information to advise on the prospect of a Waste-to-Energy facility. Through a technical education and courses like Engineering Economy civil engineers are taught to see the triple bottom line in project implementation. Weighing people, planet, and profit to make decisions that benefit the community most while minimizing costs is the job of civil engineers. Her major will support a career in solid waste and be complemented by her minor in Sustainability Studies to help make the solid waste system more efficient and more sustainable.