For those of us living in the Washington, DC Metro area, the sense of community has never been stronger; we can thank the Washington Nationals World Series victory for providing this community bonding experience.
Seventeen months ago, when the Capitals won the Stanley Cup, the Nationals celebrated the success of our hockey team. Now we are seeing the community come together as the Capitals are celebrating and honoring the success of the Nationals.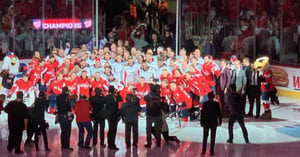 Over the past few days, Washington hosted a parade that drew tens of thousands of residents of the DMV (District of Columbia, Maryland, and Virginia) to the streets of our Nation's Capital. This was followed up by the Washington Capitals hockey team hosting the Washington Nationals baseball team at a recent hockey game, which I was fortunate to attend. It was there, during the hockey game that the idea of community really hit home. Seeing one professional team supporting another local professional team was incredibly inspiring.
As a member of SWANA, you are a participant in multiple communities. Your fellow SWANA members provide you support through our members-only private social network, MySWANA, or through one of our seven Technical Divisions. From a geographical standpoint, you are a member of your local community where you provide the solid waste and recycling expertise which your community depends on. On occasion, you may interact with other professional departments in your jurisdiction such as the Environmental Department or Public Works Department. Like the Capitals embracing the success of the Nationals, working together across municipal departments, or with solid waste consultants, creates stronger ties in your community.
SWANA membership provides you additional communities through our network of 47 chapters throughout the United States and Canada. Recent chapter developments include the confirmation the Pacific Basin SWANA chapter as well as the reestablishment of the Michigan Great Lakes SWANA chapter. While the distance from Detroit to the Upper Peninsula in Michigan is over 450 miles, the geographic footprint for the Pacific Basin stretches from Hawaii to Guam and beyond, a distance of 4,000 miles. Those are some very large communities. Additionally, for SWANA members that live in Idaho, Montana, Wyoming, North Dakota, South Dakota, and West Virginia, you are now a member of a neighboring SWANA Chapter.
How are you involved in a community in SWANA? What are you doing in your community to celebrate the success of your colleagues in your department or other departments in your municipality?
---
Darryl Walter
Darryl Walter is the Director of Membership for SWANA. When Darryl isn't promoting the value of SWANA membership and SWANA events such as WASTECON, you can find him on the tennis court or softball field.