Volusia County's Solid Waste Compliance Team: Safety Is Job One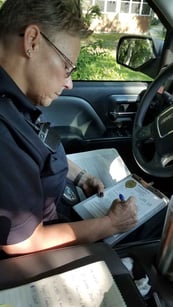 Meet Volusia County Solid Waste Management Compliance Officer Tami Lake. When she's not hard at work, Tami Lake and her husband often can be found communing with nature while engaged in some of their favorite pursuits – fishing, 4-wheeling and frolicking in the mountains. An avid outdoor enthusiast, it aggravates Tami when people disrespect the natural environment and use it as a dumping ground for everything from household trash and lawn debris to used furniture and appliances, construction rubble, tires and just about anything else you can think of.

Fortunately for Tami – and the residents of Volusia County – she has a job where she can actually do something about it. Think of an enforcement officer, teacher, environmental advocate, litter sleuth and goodwill ambassador all rolled into one, and you begin to get an idea of just how many hats the County's four-member solid waste compliance team wears while patrolling the community and working to clean up the environment and stop litterers in their tracks. But for Officer Lake, public safety is always job one. "I think for any County employee, our first duty is to keep people safe," said Tami. "Safety is absolutely our number one priority."

Make no mistake: Litter and illegal dumping aren't just eyesores. In many ways, it's a matter of public safety. When a truck's overfilled load is spewing out the back, it could cause vehicles behind it to stop short or swerve out of their lane and into oncoming traffic. While this type of littering may be accidental, the consequences nevertheless could be deadly. That's why litter checkpoints and truck inspections are a big part of the job.

Ordinarily, Tami spends the first half-hour of each shift in the office, checking her computer for fresh complaints about illegal dumping. She also checks to see what prior cases need more investigating or a violator who needs follow-up contact to make sure that the problem has been cleaned up. There are approximately 315 tire dealers in the county, and Tami and her team also are responsible for inspecting each one annually. It's one of those jobs where you never know from one day to the next what's going to happen. And Tami likes it that way. "In this job, no day is like another," she said. "It keeps things interesting."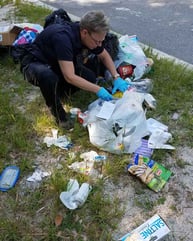 Whether it's Florida's litter law, Volusia's solid waste ordinance, commercial recycling ordinances or the guidelines for residential trash pickup, Tami has been enforcing solid waste rules as a County compliance officer for nearly five years. It's a job that she loves and one that clearly suits her. "I love meeting people and I love trying to help people," said Tami. "It's incredibly satisfying."
Aside from working in the great outdoors and doing something that she finds extremely interesting and fulfilling, Tami says the teamwork and camaraderie are also what makes the job so rewarding. Everyone on the team works together, helps each other out, has each other's back and approaches their job with dedication and professionalism. It's a necessity when you have a small unit and so much ground to cover.
According to Regina Montgomery, Volusia County's Solid Waste and Recycling Director, public education is one of the compliance officers' most important tasks. Every citizen contact is an opportunity to explain safety, the law and the rules of proper waste disposal. After all, having Tami and the rest of her team out patrolling the community could prevent the next environmental eyesore from spoiling Volusia's landscape. It could even prevent a tragedy. "If we can stop it from happening, then the compliance officer has done their job," Montgomery said.
View the full story on MySWANA here.
Please click here to visit the County's Solid Waste web page and obtain more information about the do's and don'ts of solid waste and recycling.
Gary Davidson, Senior Marketing Specialist, Community Information
Gary Davidson earned a Bachelor's Degree in Public Relations from the University of Central Florida and worked in the print media for 13 years. He previously served as Public Information Officer for the Volusia County Sheriff's Office and retired from that position in July 2017 after a 22-year career. Davidson returned to Volusia County Government in May 2019 as a Senior Marketing Specialist with Community Information.