By John Carlton, P.E., BCEE, HDR
Regardless of your religious or cultural background, December is a time when many of us exchange gifts. Some of these gifts we want. Some – well – maybe not so much. The gifts are often enclosed in packaging. The packages are often wrapped. In the end, there is a lot of waste associated with gift giving. By some estimates, we generate 20 to 40 percent more waste during the holidays.
We all should look to reduce our waste generation, but there is no need to be a scrooge during the holidays. So how can we celebrate the gift giving tradition without creating waste? Let me count the ways.
Gift experiences. This is one of my favorites. It can be any experience: see a movie; go rock climbing; take a hike; tour an art gallery; take an art class; take a cooking class; volunteer together at the local animal shelter; learn to surf; give a massage. The opportunities are endless.
Do something for someone else. Our to-do lists are often endless. Why not take one or two items off someone else's list. This could include: detail their car; tune-up their bicycle; fix the broken appliance; paint a room; do all laundry for a month.
Give a second hand gift. Consignment shops, Goodwill, and other second hand stores often have great items just looking for a new home (and use). Reuse is always better than recycling. You often can find great items that have a lot of life left in them.
Gift homemade food. Many of us appreciate homemade foods such as cookies, jams, pickled vegetables, beer, pasta and sauces. Provide foods in reusable containers such as Mason Jars or Pyrex. You might even inspire them to pass the tradition, and containers, along to others.
Give a plant. Most of us could use a bit of green or other colorful plants in our lives. Giving a plant has several benefits. Yes, they may end up killing the plant. But they may not as well. Plants often help clean indoor air, provide visual appeal (as long as it's not dead), and help us connect to other living things.
Give a membership. Help expand someone's horizons through some kind of membership. This could be a membership to the local botanical garden, science museum, minor league sports team, or local theater. And let's face it, we live in a highly digital world. Maybe give a digital membership. This could be a video subscription (such as Netflix), an audible one (such as Audible), a gaming membership, or a news subscription.
We all know it's better to give than receive. This coming year, let's practice giving in a way that is sustainable and less wasteful.
---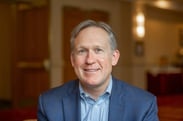 John Carlton, P.E., BCEE, HDR
John is the Solid Waste Program Lead for HDR based in Irvine, CA. He is an active member of SWANA's Planning & Management Division. On behalf of the Division, he wishes everyone a joyful, waste free holiday season.