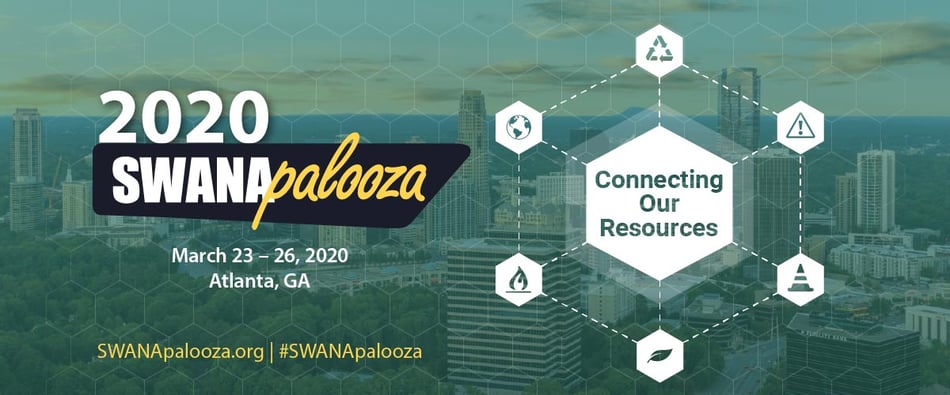 SWANA has launched the SWANApalooza 2020 conference program
SWANA has launched the conference program for
SWANApalooza 2020
, the industry's leading technical conference. The thoughtfully selected and curated program showcases the latest promising technologies and concepts for transforming waste into a resource. SWANA expects to draw more than 1,500 experts and problem-solvers to the 2020 event, scheduled for March 23-26 in Atlanta, Georgia.
"The 2020 sessions present novel approaches for the industry's most pressing issues and equip participants with actionable data, insights and solutions they can immediately apply to their work," said Arminda Valles-Hall, SWANA Director of Member Learning and Education.
The program is built around five tracks – Collection and Transfer, Landfills, Landfill Gas and Biogas, Sustainable Materials Management, and Waste Conversion and Energy Recovery. Conference sessions feature presenters with technical expertise in various areas, including engineering, manufacturing, operations and regulation, exploring issues like:
Unmanned surface and aerial technologies supporting landfill operations through orthomossaic imagery, topography mapping and volume calculations
Emerging technologies to treat waste plastics
Full-cost accounting to determine true operational costs and make improvements based on the cost analysis
Sampling, testing and shipping biogas and RNG to meet emerging pipeline specifications
A modern sales approach to improve operations, customer service and data management
Solutions to effectively remove hydrogen sulfide that consider gas flow (temperature, humidity, contact time, oxygen content), and media extraction/disposal methods
Ways to improve a proposed public engagement strategy for a new WTE facility via a crowdsourced problem-solving forum
Further, within each track are clusters of content related to special topics, among them, PFAS, Recycling, and Safety.
Given emerging health concerns and increased scrutiny of PFAS, coupled with a recent $6M increase in EPA funding for PFAS research, SWANApalooza 2020 gets ahead of the broad range of PFAS-related issues, covering topics that include methods to sample and analyze PFAS, treatment solutions and associated removal efficiencies, and PFAS modeling.
In Recycling, SWANApalooza covers federal and state legislation that can accelerate moving from the current disposition of waste to zero waste to landfill by 2040; public education, outreach and enforcement strategies to get residents to "recycle right"; and lessons learned from recycling programs that met with varying degrees of success.
Additionally, through SWANApalooza, SWANA continues its commitment to industry safety by offering four safety sessions that explore ways to assess worker health; incorporate new injury-reduction technologies; and use research data from behavioral safety observations related to Lockout/Tagout, Line of Fire, and Hand Safety to inform process and practice improvements.
SWANApalooza 2020 proposals were peer-reviewed by 43 members of the SWANA Technical Divisions and ultimately selected because they spark participant engagement and offer innovative solutions applicable to real-world issues. "This conference intends to engage participants in the learning process through crowdsourced problem-solving, debate, and interaction with the content experts and each other. It is not intended to be a passive experience," noted Ms. Valles-Hall.